Policy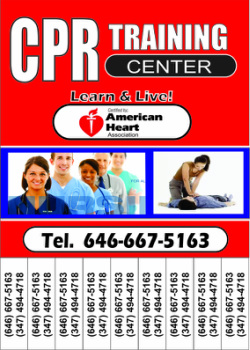 Valid reason, the deposit is non-refundable. However, if the student informs us ahead of time with a valid reason. The class can be rescheduled up to one time. We strongly recommend that you arrive 15 minutes before the start time.

For a lost or replacement CPR card, there will be a $30.00 fee. We recommend that you secured your card in a safe place.
Evidence Base Practice (EBP) Key issues and major changes in the 2015 Guidelines Update recommendations for HCPs include the following:
• These recommendations allow flexibility for activation of the
emergency response system to better match the HCP's clinical setting.
• Trained rescuers are encouraged to simultaneously perform some
steps (ie, checking for breathing and pulse at the same time), in an
effort to reduce the time to first chest compression.
• Integrated teams of highly trained rescuers may use a choreographed
approach that accomplishes multiple steps and assessments
simultaneously rather than the sequential manner used by individual
rescuers (eg, one rescuer activates the emergency response system
while another begins chest compressions, a third either provides
ventilation or retrieves the bag-mask device for rescue breaths, and a
fourth retrieves and sets up a defibrillator).
• Increased emphasis has been placed on high-quality CPR using
performance targets (compressions of adequate rate and depth,
allowing complete chest recoil between compressions, minimizing
interruptions in compressions, and avoiding excessive ventilation).
See Table 1.
• Compression rate is modified to a range of 100 to 120/min.
• Compression depth for adults is modified to at least 2 inches (5
cm) but should not exceed 2.4 inches (6 cm).
• To allow full chest wall recoil after each compression, rescuers
must avoid leaning on the chest between compressions.
• Criteria for minimizing interruptions is clarified with a goal of
chest compression fraction as high as possible, with a target of at
least 60% (AHA 2015 updates).
• Where EMS systems have adopted bundles of care involving
continuous chest compressions, the use of passive ventilation
techniques may be considered as part of that bundle for victims
of OHCA.
• For patients with ongoing CPR and an advanced airway in place, a
simplified ventilation rate of 1 breath every 6 seconds (10 breaths
per minute) is recommended.
These changes are designed to simplify training for HCPs
and to continue to emphasize the need to provide early
and high-quality CPR for victims of cardiac arrest. More
information about these changes follows.
In the following topics for HCPs, an asterisk (*) marks
those that are similar for HCPs and lay rescuers.
Immediate Recognition and Activation of Emergency Response System
2015 (
HCPs must call for nearby help upon finding
the victim unresponsive, but it would be practical for an HCP
to continue to assess the breathing and pulse simultaneously
before fully activating the emergency response system (or
calling for backup).
2010
The HCP should check for response while
looking at the patient to determine if breathing is absent or
not normal.
The intent of the recommendation change is to
minimize delay and to encourage fast, efficient simultaneous
assessment and response, rather than a slow, methodical,
step-by-step approach.
Emphasis on Chest Compressions*
It is reasonable for HCPs to provide
chest compressions and ventilation for all adult patients in
cardiac arrest, whether from a cardiac or non cardiac cause.
Moreover, it is realistic for HCPs to tailor the sequence of
rescue actions to the most likely cause of arrest.
It is reasonable for both EMS and in-hospital
professional rescuers to provide chest compressions and
rescue breaths for cardiac arrest victims.
Table 1 Rescuers
Perform chest compressions at a rate of 100-120/min Compress at a rate slower than 100/min or faster than 120/min
Compress to a depth of at least 2 inches (5 cm) Compress to a depth of less than 2 inches (5 cm)
or greater than 2.4 inches (6 cm)
Allow full recoil after each compression Lean on the chest between compressions
Minimize pauses in compressions Interrupt compressions for greater than 10 seconds
Ventilate adequately (2 breaths after 30 compressions (American Heart Association 2015 updates).
---